How to

scale Google & YouTube by 3,323% and generate 21,200 leads per month

in a market dominated by high rollers.
The only electric skateboard in the world that rides exactly like a snowboard, enabling riders to shred pavement just like they would powder, 365 days a year. The brand sells exclusively online, at a higher price point within a hyper-competitive industry.
LEIFTECH partnered with Fetch & Funnel to scale their business using paid social advertising. Historically, campaigns were expensive and the cost to acquire a new customer was increasing. Margins were stretched thin, and campaigns were breaking even while competitors with deep financial backing were getting aggressive. The brand needed a new approach, along with a new strategy that was tailored to fit their individual business model.   
Advanced Facebook eCommerce Funnel
Rebuild all campaigns and implement a top/middle/bottom of funnel approach. Segment campaign structure by age, gender, demographic, platform, geography, and ad placement. Segment retargeting by 7/14/28 day audiences for tailored messaging.
Facebook Messenger & Chatbots
Integrate Facebook Messenger into our Facebook advertising campaigns. Design, build, and implement chatbots within specific areas of the sales funnel to increase conversion rates.
"LEIF has seen fantastic results from Fetch & Funnel. We've done a lot of testing, it's what has enabled us to scale. Our conversion rates shot up by something like 11,000% when we decided to use a bot for product sizing issues, I was blown away!"
Within eight months we scaled total company revenue by 320% while maintaining a ROAS of 5x or higher. We rebuilt all campaigns, designed and implemented an eCommerce funnel within Facebook and continually pushed the envelope in order to test new tactics, methods, and strategies. Our results were stellar, and we've since taken our learnings and continued to push our methods even further.
Rebuild Facebook & Instagram campaigns to increase profitability.
LEIFTECH wanted to scale, and in order to do so we first had to increase campaign profitability. When the F&F team took over, campaigns were generating a 3.59x ROAS. By the end of month one our new campaigns had achieved a 7.53x ROAS, resulting in a 210% increase in revenue with the same budget. This was done by restructuring campaigns and building an eCommerce funnel designed to drive low cost prospecting traffic into 7/14/28 day retargeting campaigns. Our team used Video Views campaigns to build an ultra low cost audience for retargeting. We segmented audiences by percentage of time spent watching our videos. Those that watched 25%, 50%, and 100% were grouped into different retargeting campaigns. 
Coupled with an extensive creative testing process, our team was able to increase revenue by 159% within the first three months from Facebook & Instagram. LEIFTECH also achieved a 174% increase in transactions.
Build a product sizing bot for Facebook Messenger to help customers make the right purchase.
LEIFTECH sells a product with a higher price point, and determining which size board is a major purchase decision. Height, riding style (aggressive/tricks/casual), and stance are all important factors in product selection.
We decided to create a Messenger chatbot to walk people through sizing options, and recommend the perfect board for their riding style. This offered reassurance and confidence in their decision to make the purchase.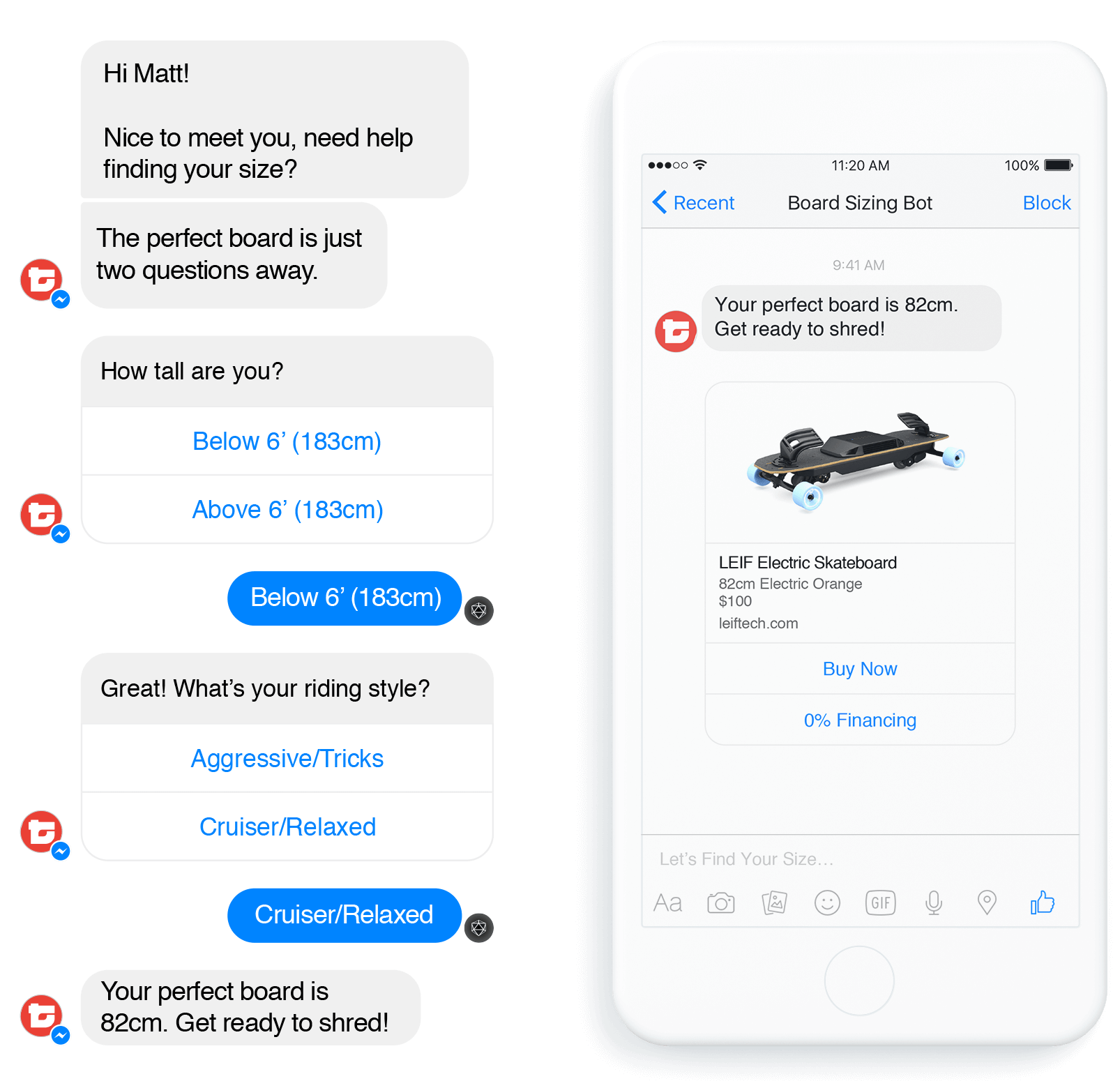 Product Sizing Bot Results
12% Increase in monthly sales
500+ People used the bot within the first month
We introduced an auto-followup sequence with timed messages
We ask users if they have further questions or need assistance
We can message this audience in the future with discounts or promos
Use Facebook Messenger to generate sales and increase conversion rates. Integrate Messenger into Facebook advertising strategy.
The #1 way to increase sales and scale your profit is to lift your website's conversion rate. We specialize in aligning CRO best practices with modern design. You'll get a superior design, that converts traffic into customers at high rate.
Shopify Website Designed and Built in Two Months
We align web design with conversion rate best practices in order to build high converting destinations.
Ongoing A/B testing, Every Month
We design, develop, and execute tests across key areas of Summerboard's website every month.
Increase Your Revenue By
320%

Like Summerboard
Scale Your Shopify Revenue by
680%

Like Summerboard
More Customer Success Stories