Experience the freedom of snowboarding every day. No lift tickets, no lines with the only electric skateboard on the planet that shreds pavement exactly like snow.
Summerboard is a one-of-a-kind product at a premium price point, within a niche audience of snowboarders and extreme sports enthusiasts. Despite these challenges, Fetch & Funnel handled all marketing and scaled the brand from $50,000 to over $500,000 in monthly sales on Shopify.
Digital Strategy & Media Planning
Conversion Rate Optimization
I've been working with F&F for years now, and they've outperformed two much larger agencies. Samir has built a crack team that has to be the most efficient on the planet!
Founder & CEO, Summerboard
The numbers speak for themselves
Design a New Advertising Funnel
Summerboard wanted to scale, but first we needed to lift profitability. So we mapped the customer journey, and designed a multichannel media plan to reach the right audiences with high converting creative and cohesive messaging. From top to bottom of funnel, we tracked and measured our way to a 300% revenue lift in 3-months.
300% Higher Revenue Within 3-Months
Increase Shopify Conversion Rate
CRO Assessment + Roadmap
Our CRO team identified areas of opportunity and developed a plan.
Run Website A/B Tests Each Month
We design, develop, and execute tests across key areas of Summerboard's website every month.
Design New Shopify Website
Fetch utilized site performance data to design and build a new Shopify website, driven by CRO.
Design Strategic Landing Pages
Media buyers work closely with our CRO team to align paid traffic with landing pages, at each stage of the funnel.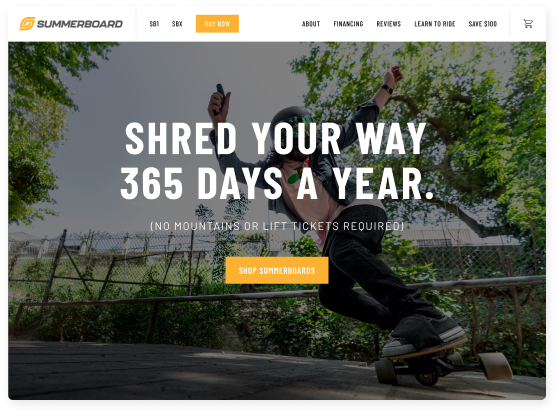 Design and build a new Shopify website using CRO learnings
The #1 way to increase sales and scale your profit is to lift your website's conversion rate. We specialize in aligning CRO best practices with modern design. You'll get a superior design, that converts traffic into customers at high rate.
Shopify Website Designed and Built in Two Months
We align web design with conversion rate best practices in order to build high converting destinations.
Ongoing A/B testing, Every Month
We design, develop, and execute tests across key areas of Summerboard's website every month.
Increase Your Revenue By
680%

Like Summerboard
Scale Your Shopify Revenue by
680%

Like Summerboard