Why Optimize Your Google Shopping Feed?
Back in 2020 we experienced a monumental shift from traditional retail to online shopping as a result of the covid pandemic and social distancing. Today, over 40% of online shoppers use search engines to discover and purchase products online.
Amazon alone captures 38% of online shoppers, which is a huge deal because Google has historically dominated the search engine market. Google still maintains a whopping 92.5% search market share, which is why it's the number one place to advertise online if you're not selling on Amazon. 
Google Shopping has the ability to generate a lot of sales. But competition is steep and theres a stark difference between mediocrity and success. As an advertiser you want to make it as easy as possible for Google's algorithm to match your ads with the right shoppers. Which means spending some time optimizing your Google  shopping feed for both relevancy as well as accuracy. 
But first, in order to run Google Shopping campaigns you need to directly link your Google Ads account with Google Merchant Center (GMC).
After linking Google Ads to Merchant Center, you'll need to optimize your Google Shopping feed to streamline everything for Google. That being said, high performing shopping campaigns require feed optimization and campaign optimization.
Optimizing your Google shopping feed will improve campaign performance in three ways:
Your feed will meet platform requirements. Each media channel has its own set of rules and feed requirements that need to be met, in order to get your feed approved to run ads.
Your feed will look great in search results. Meaning more eyeballs, more clicks, and more sales.
Your campaign data will be accurate and trackable, for maximum scalability.
Think about your product feed like you would SEO. It needs to be optimized and set up to display accurate and relevant information. If you want people to find your products, make it easy for them to be found.
What is a Product Data Feed?
A data feed is a file that contains all your products and displays all attributes for each single product. This can often be done through an app, csv, xml, or microsoft excel export.
Inside this feed, each product is presented in a single row format with each individual product information in separate columns.
Keep in mind…
Different channels may have different requirements for feed formats. The RETAILER is responsible for catering the feed to channel specific requirements.

Feeds typically need to be refreshed daily, especially when products are added or removed, or pricing changes happen on a daily basis.

It can be daunting to manually update and upload the feed multiple times a day. I recommend using 3rd party software to automate this process.
General Product Feed Requirements from Google Merchant Center
When using an app to optimize your feed, such as the standard Shopify feed integration, it should have the ability to export to the following file formats:
The above formats are easily plugged into Google Merchant Center via a link from the server (not a separate file).
Required Fields for Product Feeds
The product information required in order to get your feed approved. See more here
Product ID

– A unique identifier, such as SKU.

Product Title

– Super important to provide an accurate description of your product, using proper keyword selection. Cannot contain supplemental text like "free shipping", and you cannot use all caps or foreign characters.

Product Price

– Need to have this!

Product Description

– Accurately describe your product, in detail, as an extension of the product title.

Do not use links, and do not include irrelevant descriptions from other products.

Image

–

Has to be the image of the product you are selling. GIF, JPG, BMP, or TIFF are acceptable formats.

At least 100 x 100 pixels, and for apparel use a minimum of 250 x 250 pixels. Must be less than 16mb in size.

NO promo text on image, NO watermarks, NO borders.

URL

– Include a link that directs people to the specific product page on your website.
Field Specifications
Character Limitations:
Some fields have a max character count.
Google allows 150 characters in the title. It will only show 70 within the ad.

Facebook allows 100 characters.
Bing allows 255 characters.
Some predefined and required fields will always remain the same:
Availability

: in stock, out of stock, available to order

Gender

: male, female, unisex

Age Group

: newborn, infant, toddler, kids,  adults

Condition

: new, used, refurbished
Numerical fields (must only use numbers):
Price

UPC

MPN

ISBN

Shipping Weight

Shipping cost
Category fields:
This can be done via an category ID or by pathway
ID: 1578
Path: Apparel & Accessories > Clothing > Underwear & Socks > Shapewear 
Some Common Problems For Required Categories
Product ID:
A single SKU cannot be shared by two different products. Every shop has their own unique SKU to identify their inventory. Make sure to vary the SKU by color, size, gender, or any other special attributes. 
GTIN:
Some channels may need GTIN, it is the numerical numerical values of the bar code. GTIN is an identifier from GS1 who oversees all the commercial products internationally tracked by a unique ID, meeting international standards. 
GOOGLE has already integrated with GS1's data base to match the GTIN to the product you are trying to promote (if registered), having this ID will help google significantly identify and match your product. IF the GTIN doesn't match, the product will be disapproved. 
If you DON'T have GTIN you can substitute with MPN or UPC. 
The types of GTIN that currently exist include:
ISBN – International Standard Book Number

UPC – Universal Product Code

EAN – European Article Number

JAN – Japanese Article Number

MPN – is a manufacturer-assigned, alphanumeric value.  It is used to identify a product among other products from the same manufacturer.
The four different types of GTIN in use are:
GTIN-8 – used mostly for EAN-8 barcodes

GTIN-12 – used mostly for UPC barcodes

GTIN-13 – used mostly for ISBN, JAN, and EAN-13 barcodes

GTIN-14 – this is for wholesale or multipack products
Product Titles:
CAPITALIZATION and exclamation marks are absolutely not accepted
Character length:
Put all the most important deciding factors information in the beginning as much as possible, users read the first 3 – 4 words to decide if they want to click or not. That is why Google will limit the display of product titles by half in an ad listing. 
URLs:
Product names change, and sometimes after you've updated the information on your ecommerce shop, the title and URL have a mismatch (urls don't automatically update themselves, you will need to update this as well when updating products). The domain will need to be the claimed URL on GMC same as the feed. 
Variants or Parent Variant
Some products may have different variants such as colors, sizes and features. Often the variant live under 1 url for the product. If they have different pricing, this may lead to product disapprovals, because google cannot differentiate the product variants on their own.

In this case, you will need to export a url for each of the product variants (most platforms support this). If it is not, you can create urls with your parent url by adding an additional unique attribute to it. 
Sales Price
If you have items that are going on sale. Make sure to update the feed with sales_price or else if google sees a different pricing:
Google will disapprove the product for information mismatch

Google won't be able to put the product on a "on sale" label 
Shipping & Tax
In general the shipping and tax programs can be inputted into the GMC instead of the feed that encompases your service countries. BUT if you have a different set of rates in the feed, it will be taken priority over the GMC settings. 
What Makes a High Quality Google Shopping Feed?
Great Product Titles
The Product Title is the first thing users sees on the ad listing aside from the image. Optimizing the title is extremely important because both the user and Google's algorithms are looking for KEYWORDS within product titles. 
The title should be as relevant as possible, so users will click on the product listing instead of other competitor listings. 
For example:
Let's say your product title is actually a model number, like FX350. You need to remember that people probably have no idea what the model number is, or what it means. It's not very helpful to most consumers, which is why you need to supplement it with descriptive keywords. Samsung does a good job in the example below:
In here you see, (brandname) (size) (model number) (attributes) (product type).
Think about what your customers need to know about your product, before they click. Also think about what people are actually typing into Google when they search for your products.
Great titles are just the start! Afterward, we'll need to find the best combination.
[Secret] Formulas for High Converting Product Titles
| | | |
| --- | --- | --- |
| Category | Formula | Example (Real Listings) |
| Apparel | Brand* + Gender + Product Type + Attributes (color, size, material) | Ted Baker + Frill Neck Full Skirt Dress + in Dark Green ZADI, + Women's Clothing |
| Consumables | Brand* + Product Type + Attributes + (Weight, count)  | Prince Vladimir + Black Tea + by Kusmi Tea + 24 Tea Bags |
| Hard Goods | Brand* + Product Type + Attributes | Craftsman +  3 In 1 Rolling Mobile Workshop + Black And Red + Rona |
| Electronics | Brand* + Attributes + Product Type + Model# | Samsung + 65″ + LS03T + The Frame 4K ULtra HD HDR Smart QLED + TV |
| Seasonal | Seasonal Occasion + Product Type + Attribute + Brand | Andover Mills North Valley + Green Spruce Artificial + Christmas Tree + Size: 6′ H |
| Books | Title + Type + Format (paperback, hardcover) + Author | Lord of the Flies + by William Golding + Used (Acceptable, ex-library) + 0606001964 |
A general rule of thumb…Google will show as much of the product title as it can.
However, it will most likely be cropped down to 70 characters or less based on the number of competing ads.
Make sure to place the most important information at the beginning of your product title!
*Pro Tip: Don't list your company name at the beginning of your product description unless you're Coca-Cola or Samsung. People aren't searching for your company, they're searching for the right product.
Where To Find Keywords For Your Product Titles
You can use the search term report from your eCommerce store, or from Google Analytics to see which search queries have converted. Use these in your product titles! Feel free to also go and do some research on competing products that are being advertised.
Best Practices For Google Shopping Feed Optimization
Create Better Product Descriptions
This is your chance to educate the user on the product before they click in to the website. In this case make sure the descriptions are well written and make corrections if necessary. 
Make sure the description contains RELEVANT information of the product, and WHY is it relevant to the USER. Here, it is possible to include additional benefits such as free shipping, color, size and materials.
Probably the MOST important aspect of the listing ad because this will be the first thing that will catch your user's attention. So make sure the image IS the product showing, this means variants do not get mix up. The image is clear and it is the best image possible. NO TEXT. 
If possible, add multiple shots of the image of the product. 
Set Availability
Make sure this is automated or manually updated consistently a multiple times a day. If it is out of stock, we are wasting spend until google recognizes the product is out of stock, which leads to lower performance and bad data for the algorithm.

How To Pick Categories
Pick the best fit of category so that Google will be able to place the ads more accurately to the search query. Ideally, 5 paths down from the parent category. This will significantly boost the CTR of the ads resulting a much better performance.

Add Missing Meta Fields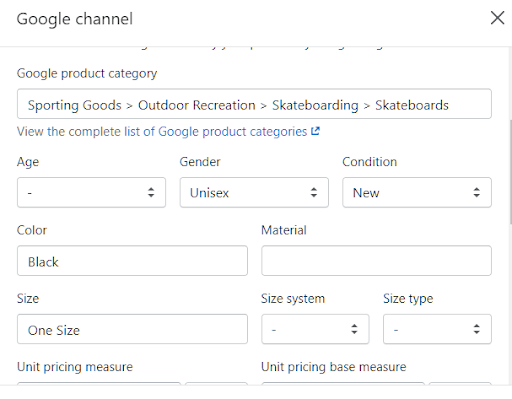 Colour

Product Type 

Brand (if you are a reseller, add the brand of the product)

Optional Fields

Shipping cost

Sale price 

Additional product types 

Custom fields (custom labels)

Additional Attributes and a way to tag your products with attributes that matters to YOU

This can be used to further customize lists of your inventory, for example:




Product Type: TV




Custom Label 1: Highend TV




Custom Label 2: Most Popular




Custom Label 3: Best Seller




Custom Label 4: 5 Star Reviews
What To Do With Parents & Variants
It's common for apparel to have a variety of colors, in a variety of sizes.  
If your business has A LOT of parent products with several variants, it may be cost effective to export parent products only, especially if you don't have the time to manage all of the product feeds on a regular basis. Without a schedule for regular monitoring, you run the risk of presenting incorrect data.
However, if you're able to support the costs of managing all parents and variants, it is always better to choose this route. 
Always separate by variants instead of relying on a parent product and making the user do the work to find the product they want. Not only will this be more relevant to the end user, but it will also let you distinguish which variants have poor performance.
Feed Fetching Settings
Make sure to have the setting set at multiple updates throughout the day because your stock level and other factors may change on a daily basis, sometimes multiple changes in a day. 
This is specifically more important if you run flash sales and high fluctuating product inventories in order to keep Google and prospects updated with the newest status of your shop. 
Key Takeaways
Exclude products that have low margins or higher competition. Don't forget to exclude seasonal products!

After uploading your feed, the real work begins. Monitoring campaign performance and continually optimizing your feed are super important.

Be sure to exclude, or aggressively optimize products that receive a lot of clicks but still have a high cost per sale. Because the market is telling you:

Your product is not what I was

expecting

.

Your competitors might have better pricing, so I clicked on yours but purchased from them.

Your product is being displayed to the wrong audience. 

If you have healthy margins and you can afford to reduce prices, try to do so in order to compete with other listings.

You can use price rank apps to optimize your pricing strategy in order to beat your competitors.

Increase the bid if you have a clear winner in your listings. Lower bids on the losers.

Utilize

promotions

and

special offers. This is a must if you offer free shipping. 
Conclusion
Having an optimized product feed is the secret to crushing it on Google Shopping. Just follow the best practices and tactics above and you'll see more sales and a higher ROI on your campaigns. 
Most of these changes are quick to implement, but you need to do the research up front. Understanding demand as well as your competition is imperative. When conducting research, here's a few questions to get you started:
What are the most lucrative categories for your competitors?

What do competing product descriptions look like? Are they all the same?
What can you say that will make your ads stand out?
Are your competitors offering promotions? Do they have reviews?
Successful ecommerce stores are always testing and optimizing their Google Shopping feed as well as their campaigns. If you do this, I can guarantee you'll start to see better results!