Award-winning performance marketing
Smart Targeting for

Smarter Results

With Geo-Fencing
Geo-Fence Your Way to Success
Our geo-fencing service is meant to empower you and build a bridge to your ideal audience with pin-point accuracy that you can use to deliver personalized messages meant to drive conversions. With the latest location-based technology, we will create custom virtual boundaries to determine possible conversion zones and deliver your ads to your potential customers' mobiles, desktops and OTT/CTV devices.
The most advanced location-based mobile advertising technology for targeting users based on specific geographic areas. Fetch & Funnel's geo-fence technology enables marketers to customize audiences through custom targeting shapes with precise and accurate data.
We can create shapes around public areas like political and school districts, street and highway boundaries, municipalities, etc.
Configurable Geo-Spatial Technology
Fetch & Funnel generates dynamic and configurable shapes customized to an advertiser's campaign. Each user is matched 1:1 to a desired targeting zone.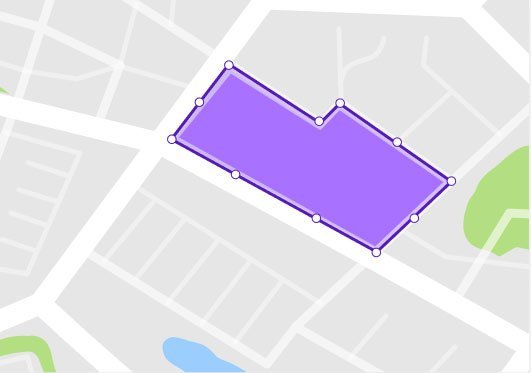 Take a look what we achieve for our client "Incrediwear"
better Performance than Meta
I want you to know that we love working with F+F. Our paid social performance has been amazing, and we're very happy with the work you're doing there. We're also thrilled with the CRO work you've been doing, as conversion rate increased almost 50% this year. Great job guys!
VP Digital Marketing, Incrediwear
The most powerful tool for tracking online-to-offline
conversions in mobile advertising.
What Are Conversion Zones?
Conversion Zones are virtual boundaries drawn around an advertiser's business location via a GPS map. Conversion Zones allow advertisers to track what amount of physical traffic at their location has previously seen one of their ads from visiting another geo-fenced location.
How Conversion Zones Work?
A virtual geo-fence is traced around a specific location
where the advertiser wants to target customers visiting
another physical location (e.g. a competitor's store, a
venue, or a specific part of town).
Next, a Conversion Zone is traced around one or more of
the advertiser's locations.

When the customer enters the geo-fenced location, they
will then be targeted with the advertiser's ads on their
mobile device.

When the customer enters the Conversion Zone with
their mobile device and has previously been served the
advertiser's ad, the Conversion Zone recognizes the user
and attributes their visit as an offline conversion for the
geo-fencing campaign.
Why Use Conversion Zones?
Identify audiences responding to mobile advertising by visiting a physical location as opposed to a click or call.
Track online-to-offline conversions
 Enrich mobile performance
 Evaluate campaign effectivenessOther
mobile programmatic technologies lack the accuracy of Simpli.fi to effectively attribute mobile impressions with physical visits to an advertiser's location.
Conversion Zone reporting includes the following metrics:
Impressions
 Total Spend
 Clicks
 View Through Visits
Click Through Visits
Total Visit Rate (TVR)
 Cost Per Visit
 Daily Visits
 Daily Total Conversion Zone Visits
Who are

ideal clients

for Geo-Fencing?
Auto
Quick Service Restaurants
Insurance Agents
Retail
Hospitality
District-Specific Entities
Political Parties
Political Candidates
Municipalities
Counties
Civic Groups
Sports Areas
Concert Halls
Amphitheaters
Convention Centers
Colleges
Airports
Truck Stops
Bus Stops
An auto dealership would like to serve ads to potential customers who have recently visited their competitors' locations and measure how many of those customers have visited their own location. First, the dealership can draw geo-fences around their competitors' locations to serve ads to customers who have been to those locations. The dealership can then draw a Conversion Zone around their own location to track how many of their customers have seen an ad since visiting a competitor's location.
We want to serve ads to potential clients who have recently visited a collision repair shops. First, we can draw geo-fences around all the collision repair shops in your area to serve ads to prospective clients who have been to those locations. We can then draw a Conversion Zone around your office to track how many of those leads have seen an ad and then visited your office.
A university wants to track how many students, faculty, and visitors are attending sporting events at their stadium after seeing ads on their mobile devices on campus. The university can create a geo-fence around the campus to serve ads for the events to those on their campus. The university can then trace a Conversion Zone around their stadium to track how many attendees have been served an ad and then visited the stadium.
Additional Example Use Cases
Travelers (Hotels, Rental Cars, Airlines, etc.)
Grocery Shoppers
Drug Store Shoppers
Golf Equipment Manufacturers
Conference & Trade Show Attendees
Company Employees (B2B Application)
Mall Shoppers
Skiers & Snowboarders
Boaters
Exercisers
Outdoor Enthusiasts
NASCAR Fans
Bargain/Bulk Shoppers
DIYers
Home Owners
We target brands that offer solutions to problems.
Event Targeting is a precise temporal geo-targeting technology allowing advertisers to build an audience based on a geo-fence. With Event Targeting, advertisers can target a custom, niche audience out of users who attend a specific event during a predetermined time window and serve ads to those users for up to thirty days after the event.
How Event Targeting Works?
A virtual geo-fence is traced around an event location where the advertiser wants to build an audience based on user visits to a particular location during a set, scheduled timeframe. When a user enters the geo-fenced location during the set timeframe, they will then become part of an audience that can later be targeted following the event.
Self-contained, one-stop shop for a turnkey Event Targeting solution
Granularity down to the hour level
 Tool that builds audiences based on physical locations during specific date and time windows
Incomparable scalability
Fully automated process to run Event Targeting campaigns on single or multiple locations, dates, and times
 Audiences are portable and reusable
 Upload multiple Event Targeting geo-fences via GeoJSON files
Use Case: Event Targeting
An electronic supplier might be interested in targeting tech executives with a campaign promoting the latest electronics. Using Event Targeting, the advertiser could geo-fence a convention center hosting a conference for tech execs over a specific date and time range, and then later serve ads relevant to that audience.
Conferences, Conventions, and Tradeshows
Sporting Events — Pro Sports, NCAA, etc.
Concerts & Tours
Radio Remotes
Performing Arts — Opera, Theatre, Musicals
Festivals — Music Festivals, Renaissance
Fairs — State Fair of Texas, Oktoberfest, etc.
Concerts & Tours
 Community & Cultural Events
Fundraisers & Benefits
Parades
Addressable Geo-Fencing brings to advertisers a powerful, efficient, and accurate new way to target specific households and businesses with digital advertising.
What is Addressable Geo-Fencing?
Fetch & Funnel's Addressable Geo-Fencing brings advertisers a powerful, efficient, and accurate new way to target specific households and businesses with digital advertising.
Addressable Geo-Fencing can be used both as a stand-alone tactic and to improve the results of addressable TV campaigns, direct mail campaigns, and other marketing efforts that target specific households. By extending the reach, improving the frequency, and providing foot traffic attribution, Addressable Geo-Fencing makes all household targeting efforts more effective.
How Addressable Geo-Fencing Works?
Physical addresses which an advertiser wants to target are uploaded into Fetch & Funnel's platform.
The addresses are then matched against plat line data to determine the exact physical location, size, and shape of the individually matched addresses.
The system then geo-fences each matched address to target users specific only to that distinct address location. If desired, desktop, laptop, and OTT/CTV devices are also targeted through Fetch & Funnel's cross-device graph.
Audiences at every single address are updated on a daily basis.
Why Use Addressable Geo-Fencing?
Precise targeting with plat line data
 Scalability to target up to 1 million physical addresses per campaign
 Real-time creation of curated lists with 700+ location and demographic factors
Improved reach compared to IP-based solutions
Foot traffic attribution and tracking with Conversion Zones
Geo-Conversion Lift metrics to distinguish natural and ad-influenced foot traffic
Enhanced performance of addressable TV, direct mail, and targeted campaigns
Personalized creative based on address-level intelligence
Granular reporting at the ZIP+4 level
Cross-device targeting for individuals at the address on multiple devices
Efficient onboarding of offline data
Daily updates of audiences from CRM systems and offline databases.
Ideal Prospects for Addressable Geo-Fencing
A local franchise quick service restaurant is interested in pushing out a promotion to surrounding neighborhoods.
A direct mail company wants to advertise digitally to the same audiences that they are sending direct mail pieces.
A cable company that provides residential cable and internet services is interested in targeting addresses that are current cable subscribers, but not internet subscribers.
Automotive A local auto dealership is interested in targeting addresses that are due for an upcoming lease renewal.
Frequently Asked Questions
We're quick to respond, and you'll get to speak with an expert.
We're quick to respond, and you'll get to speak with an expert.
Frequently Asked Questions
Is it programmatic right for my business?
Great question! Programmatic advertising can be beneficial for almost every business. It can provide great performance and even get in front of your ideal customer base at the lowest cost vs. any other platform. The strategy based on your kind of business varies drastically. We recommend getting in touch with one of our specialists to discuss what a programmatic strategy could look like for your business.
What budgets do I need to start on programmatic?
We do not have any minimum budget and can start out with as little as a few hundred dollars. We do recommend spending at least one thousand per month to test different placements, targeting, and channels. 
How is the data for programmatic advertising collected?
The data for our clients is collected through various sources such as website cookies, device IDs, locations of interest, device IDs and third-party providers. The data obtained in question is refined due to this approach and yields better results than pre-determined customer segments.
Is programmatic advertising suitable for small businesses?
Small businesses can benefit greatly from a programmatic strategy as it allows for cost-effective precise targeting that has a higher possibility of conversion.
How does programmatic advertising differ from traditional advertising?
Traditional marketing requires manual placement of ads with different publishers. But, when you're using the programmatic approach, you'll be using automated technology to buy and place ads in real-time while also receiving an improved ROI with better ad performance.
What channels can be targeted through programmatic advertising?
Fetch and Funnel's programmatic advertising can target a wide range of channels including video ads, display ads, native ads, mobile ads, OTT/CTV devices, and social media ads.
Start scaling your brand today with
The Fetch & Funnel Method™
What can we help you with?
(select all that apply)