As the wise sages of yore have been known to say…
"There's an app for that."
OK sure, it's a cliché. But it's a cliché because it's true. And it's especially true when we're talking about Shopify.
If you're on Shopify you already know about their App Store, because, let's face it, it's pretty much the number one reason to choose Shopify over Wix, Weebly, or even WordPress. (And if you aren't on Shopify yet, get your free trial here!)
Maybe you also have some idea of all the sweet sweet cash you could rake in if you just had the right app in place to help you with marketing, upselling, emailing, etc. There is sweet cash out there for you, rest assured! But with thousands of apps to choose from, where to start?
Gather round, young Shopifiers, and let us tell you all about the best Shopify apps to boost your business. We've researched the ever-living crap out of them, so you don't have to.
Best Shopify Apps for Store Catalogs
If you're only going to get one kind of app for your Shopify store, it should probably be one of these. Product catalog apps make it a lot easier to get your products in front of people through Facebook and Instagram Ads, Google Adwords, or other essential platforms.

Flexify
https://apps.shopify.com/facebook-product-catalog
What it does
Flexify syncs your products with your Facebook catalog and lets you create dynamic product ads. You can use it to advertise across platforms, including Facebook, Instagram, Pinterest, and Google.
Why we love it
"Set it and forget it" is the name of the game. Flexify is super easy to set up; you just install it and it automatically creates a product feed for you. It also makes it much easier to keep your product feed fresh and to hone your targeting without a ton of manual work. It also offers a free version, and it's hard to argue with free.
The downside
OK, remember that time I said it was hard to argue with free? I guess I am about to argue with free. You'll get limited customer support and you can only have up to 1,000 products in your catalog with the free version. Premium plans start at $29 per month.

Advanced Google Shopping Feed
https://apps.shopify.com/simple-google-shopping-feed
What it does
Advanced Google Shopping Feed automatically creates a product feed for you on Google Shopping, Facebook, and Bing.
Why we love it
This app has the potential to be the only catalog app your store needs as it covers all the major platforms. Plus, it's got a perfect five-star rating on the Shopify App Store. Can you think of anything else more universally loved and critically acclaimed? Even America's sweetheart (Tom Hanks) has his haters—but you can't say the same about the Advanced Google Shopping Feed app.
It's easy to set up—just click "install"—and it automatically keeps your product feed updated as well as optimized for the best visibility. The team provides excellent support (hence the five stars) and it's the ideal choice for stores moving from the Google Shopping app. One thing that sets them apart from other services is that they publish all variants—colors, sizes, etc—of each product.
The downside
The app costs $1 for every 1,000 products with a minimum of $7 per month, though they do offer a free 14-day trial so that you can see if it's worth your while.
Best Shopify Apps for Giveaways & Referral Campaigns
Referral campaigns can be pretty extremely lucrative, however often complicated to plan and execute, so if you're looking to run one and don't want to spend a lot of hours setting it up—we have exactly one fantastic recommendation.

Viral Loops
What it does
You can use Viral Loops to run referral campaigns, viral giveaways, and pre-launch campaigns. It's perfect for giveaways designed to expand your subscriber list and get you more word-of-mouth sales.
Shameless plug, but our team here at Fetch & Funnel has had great success leveraging Facebook Messenger in combination with Viral Loops.
If you're looking to execute a powerful campaign to increase sales while also driving engagement and organic audience growth, read this article.
Why we love it
If you're looking for a viral messaging app for your Shopify site, look no further than Viral Loops. We have yet to find a better service. It's super easy to set up—all you have to do is choose a template and you're good to go. It integrates with Zapier, Facebook, Google Analytics, Messenger and lots more.
We also recommend adding Viral Loops to the mix if you're considering a giveaway. Using pre-launch templates will help you get the ball rolling and better leverage your advertising spend to increase ROAS (Return-On-Ad-Spend).
The downside
The dashboard can be a bit challenging to navigate. Plus, pricing is based on the number of participants in your campaign. It starts at $49 per month, then increases by $20 for every 2,000 participants above the first 1,000. It could get expensive, but in our experience with a properly executed campaign you'll reap big rewards.
Best Shopify Apps for Shopping Cart Abandonment
You probably already know this, but shopping cart abandoners are PIPING HOT leads. They're already primed to buy, they just need an extra little nudge—a discount, some other incentive, or maybe even just a friendly reminder. Cart abandonment apps can help you automate said nudging and watch the sales roll in.

Abandonment Protector
Abandonment Protector Shopify App
What it does
Abandonment Protector—while it might sound like a high-tech alternative to therapy—helps you capture your website visitors' attention and keeps those slippery little eels from getting away.
Why we love it
It's the easiest app of its kind to use. They've got pre-designed popup and email sequence templates that'll have you capturing info, nurturing leads, and turning those leads into customers in no time.
The set pricing at $8 per month means the cost won't get out of hand, and with it you'll get unlimited popup views and up to 3,000 emails with no subscriber limit.
The downside
There are some customer complaints about support. They've got a 4.8-star rating though, and the vast majority of their reviews are fantastic.

Carts Guru
What it does
Branding itself as a multichannel, all-in-one marketing automation platform, Carts Guru is one of the more robust apps available on Shopify. With an easy-to-build workflow process, you'll be able to create a customer journey that includes email, SMS, retargeting, Messenger and more.
Why we love it
Carts Guru is easy to set up and comes with good customer service. It's free to install and stays free for up to 300 contacts. It does a lot more than just follow up on cart abandonment, so it has the potential to work in place of a number of lots of apps. Plus, quick integration with Shopify will have you up and running in minutes.
The downside
The app faces struggles anytime they update.

Sumo
What it does
In a word (or more accurately, seven words, unless you're counting these words, in which case considerably more words), Sumo helps you grow your email list.
Why we love it
Sumo does one thing, and does it well. If you are looking to capture emails (and, who isn't), then Sumo is an excellent tool that's both easy to use and quick to set up. Their opt-in forms are designed to convert, and they've got the numbers to prove it. As a bonus, Sumo also helps boost AOV and reduce cart abandonment with strategically placed incentives. As a bonus bonus, they offer a completely free version.
It also integrates with MailChimp, Klaviyo, and other popular email platforms to make your whole email marketing game into a seamless process.
The downside
The free version lacks key features and abilities, and the price can add up quickly depending on how many visitors your site gets.

Privy
What it does
Privy is a lot like Sumo in that they make it a whole heck of a lot easier to set up popups to capture leads and reduce cart abandonment, as well as to send emails to those potential customers.
Why we love it
Why would you choose Privy over Sumo, or vice versa? Pretty simple. Privy offers all of their features in the free version, and the free version is available for websites with up to 5,000 monthly views. So if you're still working on getting over that 5,000 mark, Privy is a great way to start. It's got lots of features, including A/B testing and the ability to sync with Shopify discounts.
The downside
In addition to some customer service and technical issues, the popups in the free version will feature Privy branding.
Best Shopify Apps for Exit Popups
If your Shopify site doesn't have exit popups…well, it should. Are exit popups annoying? Yes, probably. But annoying works. Exit popups interrupt your visitor's auto-pilot browsing and force them to take another look. And the best way to make sure that second look turns into a sale is through contextual targeting, which means you don't want to use the same popup for every customer. That's where an app comes in.

WisePops
https://apps.shopify.com/pop-up-builder-wisepops
What it does
You can use WisePops to hit your website visitors up with strategically placed popups of all kinds, including exit popups. WisePops can sense when a visitor is about to leave your site and shows them a popup that—like that friend who's always saying, "Come on let's just have one more, I'll buy"— gives them an incentive to stay.
Why we love it
WisePops lets you get very specific with your targeting. As they put it, "Need to display a coupon every Saturday from 5 p.m. to 6 p.m. only to iPhone users based in Chicago after they view three pages on your website? Done in five clicks." That means you can display an exit popup with an offer your potential customer will find particularly enticing—for example, a discount on that specific item they keep going back to.
Another plus to using WisePops for your popups is the aesthetic quality, with above average premade templates and the ability to make them appear more integrated with your site's overall design.
The downside
Some of the more useful features, like A/B testing and Zapier integration, come with an up-charge.
Best Shopify Apps for Email & CRM
Chances are, you're already doing some form of email marketing. But are you collecting data about your Shopify site visitors so you can send them personal, targeted communications? You should be, and we highly recommend Klaviyo to help you out.

Klaviyo
What it does
Klaviyo keeps tabs on your website visitors so that you can nurture relationships and drive more sales with personalized emails.
Why we love it
Ever since Shopify broke its native integration with MailChimp, we highly recommend using Klaviyo as the best email provider for Shopify stores. Klaviyo natively integrates with both Shopify and your Facebook Ads account for dynamic audiences. When used properly, this integration will increase Shopify store sales and make you a lot of money. The fact that it natively integrates is a feature that will remove barriers and eliminate headaches.
Klaviyo offers a number of pre-built automations and flows to help you get started. Their robust features include unlimited A/B testing, rich behavioral segmentation, the ability to trigger flows based on a host of actions, and a full sync of all customer data. They offer SMS services in addition to email, and the ROI-based reporting ensures you'll understand the value of your investment.
The downside
Though the app is free to install, pricing depends on the number of contacts and can increase quickly. It's a bit more expensive than MailChimp, but for stores that are serious about email marketing and revenue growth you'll see an ROI.

MailChimp
What it does
MailChimp, like Klaviyo, is a full-service email marketing platform.
Why we love it
MailChimp is affordable and easy to use. They've got lots of great features, but we're not going to get into them here because
The downside
Unfortunately, MailChimp no longer integrates with Shopify. So, you probably shouldn't use it, at least for your Shopify store. It's possible to use third-party integrations to get it to work, but the only reason to do so is if you're accustomed to MailChimp and reluctant to let it go.
If you want to know more about using third-party integration, or other info about the end of MailChimp and Shopify integration and what it means for you, check out our blog post that gets into all the deets.
Best Shopify Apps for SMS Marketing
Want 90% open rates and 30% click-through rates?
Such dreams can come true with SMS! One of our favorite ways to use SMS is for abandoned cart recovery. We also love building SMS subscriber bases for our clients because it combines everything that's great about chatbots with everything that's great about email. You'll own your contact list without being tied to Facebook's terms of service—which isn't true when we're talking about Messenger chatbots. And, unlike your marketing emails—which are probably languishing in someone's promotions tab right now—with SMS you'll get great engagement from your subscribers.

Tone Messaging (SMS)
What it does
Tone Messaging allows you to text your customers, like a human.
Why we love it
Your Shopify store will increase sales, right away. And your customers are going to love it!
Tone has the technology and tools you need to send blasts and drip sequences. However, the biggest benefit of using this app is that they use real people to respond! You heard that right, and—essential bonus—you only pay for messages sent. So imagine having a real person responding to your customers' objections and helping them across the finish line. As an example, check out this message that our founder (Samir) received from Vessi—and YES he did purchase after the interaction. Look at this three-minute response rate: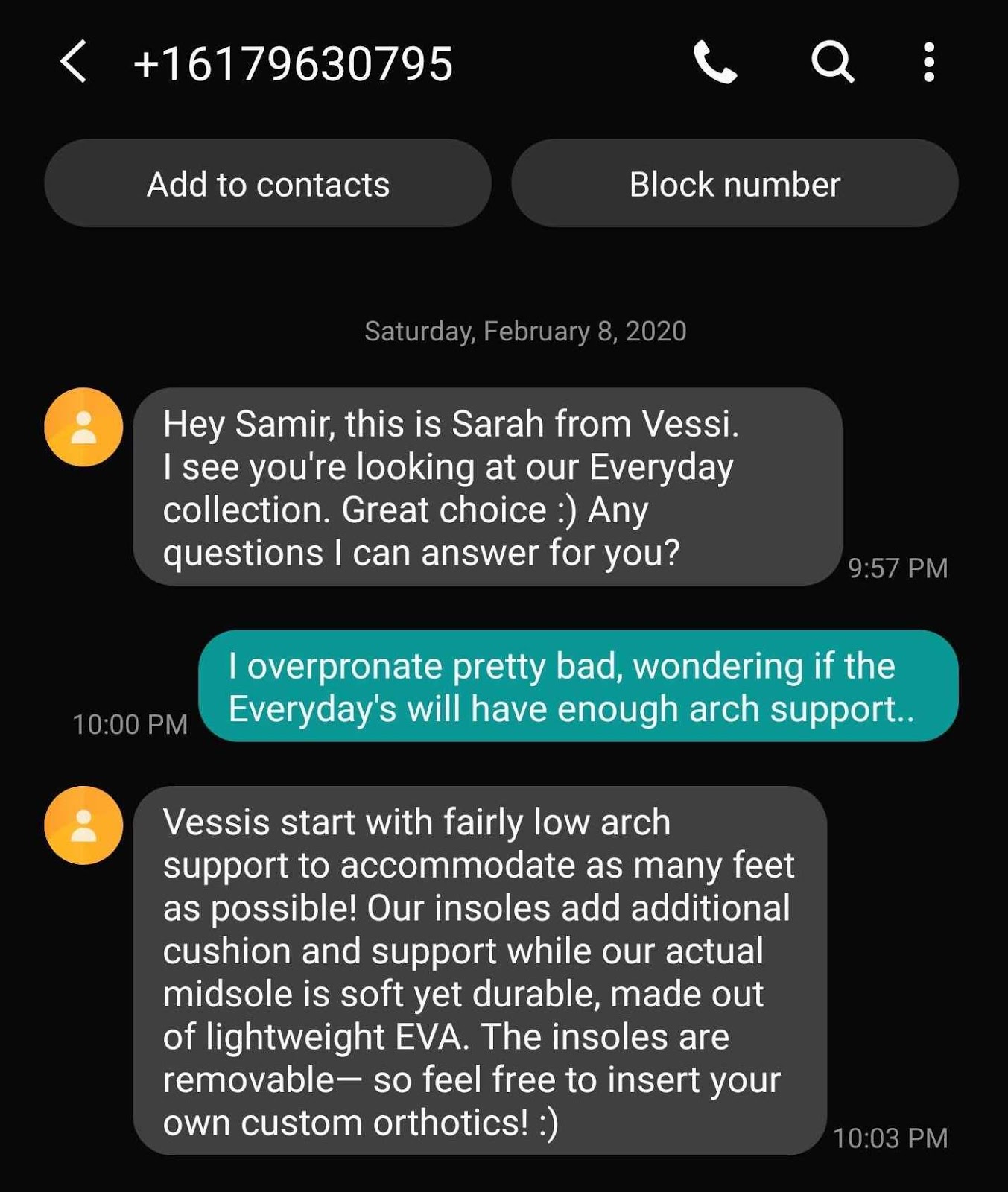 The downside
Honestly? There kinda isn't one. You only pay for the messages that are sent. It's extremely easy to set up and they have awesome customer service.

Emotive Pop-up SMS
What it does
Emotive lets you segment leads from a variety of sources—social media followers, popups, cart abandonment, etc—and engage with them in SMS conversations.
Why we love it
Sending out SMS blasts only gets you so far. Emotive helps you hone your targeting and engage in a back-and-forth with customers that'll ultimately increase conversions. It'll help you make the most of AI to answer your customers' questions, and if AI can't get the job done they'll automatically direct the lead to your customer service.
Emotive also has loads of integrations, including Shopify of course, and great analytics.
The downside
They're a bit cagey with their pricing. You have to schedule a demo with them in order to find out how much your custom package will cost. They do offer a free trial though, so you'll be able to see exactly how much it's worth to you.
Best Shopify Apps for Upsell and Cross-Sell
Cross-selling and upselling are pretty basic sales tactics in the brick and mortar world, but they're way underutilized in the online marketplace. If your shopify store offers more than one product and you have a low AOV (average order value), definitely check out some of these apps.

Bold Upsell
https://apps.shopify.com/product-upsell
What it does
Bold Upsell helps increase average order value with popups offering additional or alternative (i.e. more expensive) products.
Why we love it
Bold Upsell is a straightforward app that does what it says it will. We tested it out and it works great for upsells both before and after checkout. It also integrates with other apps so you can run it during checkout, which is a great feature. It's easy to set up so that the popups are relevant to the products your customers are looking at—add socks to go with shoes, that kind of thing—and you can also add a second or third offer if the first upsell is rejected. Plus, we love how it looks.
The downside
There is no free version, except the free trial. After that it starts at $9.99 per month.

CartHook
What it does
CartHook offers post-purchase upsells that a customer can order with a single click. It also has a built-in abandon cart email sequence that helps you keep up with customers who didn't make it far enough to get to the post-purchase upsell.
Why we love it
CartHook is one of the premier upsell apps for Shopify. It's easy to install and once set up, CartHook can be one of the most valuable, hands-off apps in your arsenal. Whether it's cart abandonment or upselling and cross-selling, this app can take care of the dirty work for you.
The one-click upsell process is an essential feature that means customers don't have to re-enter payment or delivery details in order to make the additional purchase. It removes barriers between people and the products they want, ultimately increasing AOV.
Another feature we love is the funnel builder. You can use it to customize funnels for every single one of your products, including making laser-focused landing pages without any clutter.
The downside
The only downside to CartHook is that it comes with a price tag that very much matches the premium quality. At $500 per month, it is not for the weak of heart or brand new store. If your store makes more than $5K in monthly revenue, then we recommend you give CartHook serious consideration.

Zipify One-Click Upsell
https://landing.zipify.com/pages/ocu20
What it does
Zipify, like CartHook, offers post-purchase upsells and cross-sells that customers can order with just one click.
Why we love it
Zipify has resourceful customer service and is fast and easy to use. It also fills a major need for Shopify store owners, by increasing average order value.
And again, just like CartHook, Zipify removes barriers between customers and the products they want to buy by ensuring they don't need to re-enter payment details when presented with the upsell. The main difference between Zipify and CartHook is simply that CartHook converts better. Zipify, however, is much less pricey than CartHook and is a great option if you don't yet have the revenue to go for a more premium service.
The downside
Though the price is better than CartHook, they do still charge between $56 and $81 per month plus 2.5% of the upsell revenue.
Best Shopify Apps for Analytics
There are a lot of reporting tools out there for Shopify store owners, but many can be expensive, complicated to use, or do more than you need them to. Whether you want to promote a complementary new offering, segment your customers by product categories, or reach out for a more serious reason such as a product recall—all you really need is a list of who bought what. Whatever your use case, we have just one super simple, useful, and kind of insanely affordable recommendation.

Skuby
https://apps.shopify.com/skuby
What it does
Skuby is an easy-to-use app that lets you quickly export a list of customers who have bought specific products in your store.
Why we love it
Skuby will get you a targeted list of purchasers as quickly and easily as possible. You usually need Shopify Plus to pull these reports, but Shopify Plus costs $2,000 per month. Skuby, on the other hand, offers advanced reporting and data sorting for $1.99 a month. (Insert obligatory comment here about how that's probably less than your daily Starbucks order.)
The downside
Skuby has a perfect five-star rating on the Shopify App Store. The only problem with that is that it's based on exactly one review. It's a new app, so it's too early to tell what problems it might bring along with it.

Segments Analytics
https://apps.shopify.com/segments
What it does
Segments Analytics is an easy-to-use app that lets you automate segmentation as well as access high-grade analytics.
Why we love it
This smart app makes it super easy to segment your customers. It comes with more than 15 pre-built segments that are proven to drive profits. You can also customize or create your own segments based on purchase behavior, tags, etc.
It offers recommendations that'll help you increase repeat purchases, CLV, and retention—all of which will ultimately drive more revenue. Plus, Segments makes it easy to sync your whole segmenting game across email, Facebook Ads, and Google.
The downside
To get the most out of this app you do need to subscribe to the paid version. That said, if you spend any money on advertising and retargeting, this app can pay for itself in gold.
Best Shopify Apps for Landing Pages
If you don't have coding experience and need to create landing pages for special offers, collections, or promotions, these are the apps we recommend for getting the job done.

PageFly
https://apps.shopify.com/pagefly
What it does
PageFly lets you create custom-built landing pages from within Shopify.
Why we love it
As one of the OG Shopify page building apps, PageFly has had their fair share of ups and downs over the years. However, they just keep getting better and better, and as of today they've got the highest reviews of all the page builders on Shopify.
PageFly is also the only landing page app with a free plan available, and it has decent functionality for the $0.00 price tag. If your business is new and you can't yet afford a fancier app, PageFly is a great place to start. The features are easy to use and they offer strong customer support.
The downside
A lot of the features are only available in the Pro version, which is $9.95 per month. There are no in-app analytics, and the updates can be counterintuitive. It's also limiting, as far as design aesthetics go.

Shogun
What it does
Shogun, like PageFly, lets you create custom-built pages from within Shopify.
Why we love it
Online shoppers are shallow. Your product might be the Tom Hanks of products, but if your landing page looks more like…
…then no one is going to buy it. Shogun makes it super easy to make beautiful landing pages that are designed to convert, mobile-friendly and SEO-ready right out of the box. Plus, the drag and drop editing is easy to use with no coding experience required.
Unlike PageFly there is no free version, but at $39 per month you get analytics and the ability to split test, as well as the elegant designs. And last but not least, the customer service is excellent.
The downside
Some software bugs happen on occasion. Also if you have separate domains (not subdomains), you'll need to pay for two subscriptions. We recommend keeping it simple and using a subdomain prevent this issue.

Zipify Pages
https://apps.shopify.com/zipifypages
What it does
Zipify doesn't just help you build landing pages, but whole sales funnels.
Why we love it
Zipify is a unique app in that they take the most successful sales funnels from their own Shopify campaigns and let you copy them for your own purposes. Their templates are designed, tested, and proven to increase AOV and conversion rates.
The Zipify developers are also known for a rare quality—they actually listen to their customers and address areas of concern. In reviews from 2018, you'll find lots of complaints about customer service and slow support. By 2019 that changed drastically and customer service has since become a strength of the company. Of the hundreds of positive reviews, you'll find a common theme—Most users can name their account representative, and they rave about the level of knowledge and assistance those reps provide.
The downside
Using Zipify may require some knowledge of how website code works. It's more expensive than Shogun, and the landing pages are not SEO friendly.
Best Shopify Apps for Currency Conversion
If you sell internationally, we definitely suggest using a currency converter on your site.

BEST Currency Converter
https://apps.shopify.com/doubly-currency-converter
What it does
This simple app does exactly what it says it will—converts currency. It adjusts prices so that your customers can see them in their local currency without having to do any pesky math.
Why we love it
This user-friendly currency converter is non-intrusive—meaning it gives you the option to hide the converter in the background where your customers won't even know it exists. If you spring for the Elite plan—$9.95 per month—it has geolocation functionality that'll detect where your customers are browsing from and automatically adjust the price.
If you only sell in a few different countries you can also make use of their free plan, which will convert up to five different currencies free of charge.
The downside
In addition to some customer service complaints, the only major issue with this app is that it's not compatible with all Shopify themes. So before you drop your hard-earned dollar on this service, verify that you'll be able to utilize it with your current theme.

Bold Multi‑Currency
https://apps.shopify.com/multi-currency
What it does
Bold Multi-Currency is a completely free currency converter here for your currency converting convenience.
Why we love it
Looking for a free option? Look no further than Bold Multi-Currency. Unlike BEST Currency Converter, you'll get the geo-locator functionality for free and it supports all currencies.
The downside
Because it's a free app, it can take longer to get issues corrected and you'll get very little customer service. The app also has occasional connection issues and difficulty with Scandinavian currencies.
Best Shopify Apps for Subscription Billing
Subscription billing makes it simple for your Shopify store to turn customers into recurring subscriptions (Monthly Recurring Revenue). Subscription plugins reduce friction, making it easier for your customers to purchase. If you sell products that customers are likely to buy on the regular—beauty products, food and beverage items, etc—we recommend making use of one of these apps.

ReCharge
What it does
ReCharge lets customers sign up for subscriptions on a single product or a variety. It also offers great tools for subscription box management.
Why we love it
ReCharge is the best subscription platform on the market for Shopify, in our humble opinion. It comes with a $39.99 per month price tag, but the 60-day free trial will give you more than enough time to determine the value it provides.
It's loaded with a ton of features to justify the price, including native Shopify integration and the ability to upsell and cross-sell with Enterprise. Plus, the account creation flow is built into the checkout, making it intuitive and easy to use on the customer end.
With tools for order management, setting delivery dates, and managing cut-off dates, it's the ideal choice for subscription box sellers. The inventory forecasting functionality also means you can make sure you'll have what you need to fulfill future orders.
The downside
Beta testing errors have been known to happen.

Bold Subscription
https://apps.shopify.com/recurring-orders
What it does
Bold Subscription lets customers subscribe and save on individual products or a whole cart. It also allows mixed carts with both one-time purchases and subscription items.
Why we love it
Bold has excellent customer service, native Shopify integration, and good subscribe and save implementation.
The downside
Installation can be tricky in some applications, and the build-a-box functionality is only available with an advanced membership, which comes in at $199 per month.
The bottom line is, if you just want to add a "subscribe and save" button to some or all of your existing products, Bold is a good way to go. If you want to scale your subscriptions and recurring orders are a major part of your business, we recommend ReCharge.
Best Shopify Apps for Discounts & Promotions
Unless you have a high-end brand that banks on exclusivity, you probably want to offer at least the occasional discount in order to increase sales. These apps can help you automate the process.

Bold Discounts
https://apps.shopify.com/product-discount
What it does
Bold Discounts lets you schedule discounts on select items as well as run sitewide sales and flash sales.
Why we love it
We tested Bold Discounts out and it works great and looks professional. We particularly liked the countdown timers you can use for flash sales—they create buyer urgency and ultimately increased conversions.
Bold Discounts lets you offer targeted discounts without the use of a discount code, which is a great way to remove a layer of friction in your sales funnel. You can also combine this app with other Bold apps, so you can create upsell popups with dynamic discounts, for example.
We also love the native integration with Shopify and excellent customer service.
The downside
We've seen some reports of technical issues that conflict with site code.

Discount Ninja
https://apps.shopify.com/discount-url
What it does
In addition to sitewide or collection-specific discounts, Discount Ninja lets you create special offers—like BOGO or a free gift—to increase AOV. You can also use it to set up multiple discount tiers to incentivize customers to keep adding more products to the cart.
Why we love it
Discount Ninja looks like a powerful app, though I must confess we haven't tested it out. We love the discount tiers and special offers like BOGO or BXGY and think they definitely have the power to up your AOV.
They also have a free plan available, though it provides limited functionality with only 1,000 sessions per month.
The downside
Oftentimes you'll need to use other apps when multiple discount codes are needed, and it has compatibility issues with some other apps.
Best Shopify Apps for Membership Programs
If you need to restrict access to certain pages or functions, these apps are here to help.

Bold Memberships
https://apps.shopify.com/recurring-memberships
What it does
Bold Memberships lets you restrict access to pages, products, prices, add-to-cart buttons, etc. They have built-in recurring payments if you want to charge for memberships. They also allow you to create tiers for different types of memberships.
Why we love it
We used this app for our membership site and it worked well. They offer great customer support and make it easy to show or hide member content.
The downside
Some tech know-how is helpful in setting up the app.

Easy Lockdown
https://apps.shopify.com/easylockdown
What it does
Easy Lockdown's main function is to restrict access to pages, products, collections, or the whole website. It doesn't have recurring payment functionality like Bold, but it can be used for membership-like purposes.
Why we love it
If all you need to do is grant or restrict access, this app is a simple solution. There aren't a whole lot of reviews on the Shopify App Store yet, but most customers cite fast setup, ease of use, and excellent support.
The downside
We've also seen numerous reports of sites crashing when the app is installed. And although it works with all themes, some require manual configuration.
Best Shopify Apps for Referral Programs
If you struggle with customer retention or repeat purchasers, a referral-based app is a great way to incentivize your customers with loyalty points, referral programs, or VIP status. We like both ReferralCandy and Smile.io, so which one is best for you will likely be based on budget.

ReferralCandy
https://www.referralcandy.com/
What it does
ReferralCandy helps boost word-of-mouth sales by providing customers with a unique URL to share with friends on social or via email. It automatically rewards the sharer with a discount or whatever other incentive you've provided.
Why we love it
ReferralCandy is super easy to manage and offers one-click integrations with Shopify and loads of other marketing platforms, including MailChimp, ReCharge, Bold, and Paywhirl.
The downside
ReferralCandy costs $49 per month plus a commission-based fee, which makes it hard to determine exactly how much it'll cost you.

Smile.io
What it does
Smile.io does everything ReferralCandy does, and then some. In addition to helping you hand out referral codes, it also lets you create a points-based reward system that you can use to encourage repeat purchases and social engagement. You can also use it to start a VIP program that incentivizes customers to make more purchases to get better perks.
Why we love it
Smile.io has a variety of plans and plan prices to match whatever your budget may be, including a free version with minimal features. If you've got the budget for one of their paid plans, it is a powerful platform with the potential to help you scale your business.
The downside
Their paid plans have a price tag to match the increased functionality, ranging from $49 per month all the way up to $599. Enterprise pricing is available.
Best Shopify Apps for Messenger Chatbots
We have been known to wax on about what a powerful combination chatbots and Facebook Messenger can be for digital marketing. (Read more about our Messenger and chatbot marketing strategy here.) It really is a killer combo that Shopify stores should take advantage of. You can use one of these apps to help harness the power of Messenger chatbots for your eCommerce business, or you could contact us and we'll do it for you.

Chatfuel
What it does
Chatfuel is the world's leading—and most advanced—chatbot platform for Facebook Messenger. It's intended to increase sales, qualify leads, reduce costs, and automate support on Facebook.
Check out this case study if you want to see proof.
Why we love it
46% of all Messenger bots run on Chatfuel, so you'll be in good company! Once you learn how to use it, it's one of the easier platforms to build on. It also integrates with Shopify and is a great choice for creating marketing chatbots. One of our favorite bots to build is an abandoned cart flow—a great way to follow up on those aforementioned piping hot leads—and it couldn't be easier with Chatfuel.
The downside
In order to make use of some of Chatfuel's more advanced features, you'll find there is a bit of a learning curve. That being said, they have an amazing Facebook community and a strong YouTube channel.

MobileMonkey
What it does
You can use MobileMonkey in the simplest manner to build chatbots that'll answer customer service questions, but you can also use it to create chatbot funnels that work across multiple platforms, including Facebook Messenger, SMS, and Shopify.
Why we love it
MobileMonkey integrates with Shopify and is a great choice for building marketing chatbots. MobileMonkey lets you capture leads, nurture them, segment them, get them to the products they're most likely to buy, and ultimately convert.
The downside
There is a free plan available, but in order to integrate with Shopify you'll need at least the Pro plan for $14.25 per month. In order to connect chatbots to Facebook ads (a big part of our strategy mentioned above) you'll need the Unicorn plan for $36.75 per month.

ManyChat
What it does
Like MobileMonkey, ManyChat is an app you can use to create chatbot flows across platforms—though their focus is definitely on Facebook Messenger.
Why we love it
ManyChat now has direct integration with Shopify and provides in-app SMS and email automation so you can streamline your process.
ManyChat has a great user interface that makes it easy to build your flows. It also offers a variety of growth tools to help you grow your subscriber list. They have a decent free plan available to get you started on your chatbot journey.
The downside
Upgraded plans start at $10 per month, which certainly ain't bad, but the price increases based on how many subscribers you have.
Best Shopify Apps for Shipping
If you sell physical products online, you know that managing shipments and all the associated logistics can bring a whole world of headaches. We recommend using an app to help you organize and automate the process.

ShipStation
https://apps.shopify.com/shipstation
What it does
ShipStation is an all-inclusive shipping app that lets you process orders, print shipping labels, and manage customer communication all in one dashboard.
Why we love it
To manage shipping as well as inventory quickly and conveniently, ShipStation is an excellent choice. Plus, they offer discounted shipping rates that you can't get on your own. We've tried it out and find that it works great for small-size items sent via USPS Priority or regular mail. It syncs orders from all your selling channels, automates order processing, and integrates with more than 150 other apps.
The downside
We've seen several complaints about the API breaking.
Best Shopify Apps for All-In-One Marketing

Growave
https://growave.io
What it does
Growave is an all-in-one marketing platform for small and medium-sized Shopify brands that helps them reach, engage, and convert their customers. The app offers various tools, such as Reviews, Wishlists, Q&A, Loyalty and Referral, Social login, Instagram galleries, and more.
Why we love it
Growave is very simple to install and use despite its extensive functionality. On top of that Growave offers affordable pricing to suit any brand's growth stage. Growave is an all-in-one app that offers 5+ apps in one, which saves you a ton of money paying for separate apps. Such multifunctionality of the app makes it the ultimate platform for online store conversions and sales. It is as much as six times more cost-effective than any of the alternatives on the market. Another highlight of Growave is fast and responsive 24/7 customer support.
The downside
Growave currently offers fewer integrations with other platforms compared to some similar apps. Also, the app has fewer analytics options.

VITALS
What it does
VITALS is the one-app-shop (or one-stop-app?) for reviews, upselling, discounts, etc, etc, I could go on.
Why we love it
If you think you need one million different apps, VITALS is a good choice because A. You don't have to figure out how to use one million different apps, or figure out how to get one million different apps to work together and B. Having multiple apps running on your Shopify site will slow down the loading time, and you know how kids these days feel about that.
VITALS has a perfect five-star rating in the Shopify App Store, which if you remember, puts it in the supra-Hanks category of Shopify apps. Plus, at a fixed rate of $29.99 per month, it's pretty hard to beat.
The downside
Of course, when you offer more than 40 different marketing functions in one single app, the features are going to be pretty basic. If you want more robust features for any particular app category, you'll have to look elsewhere.
Conclusion
We've compiled an expert list of the 35 best Shopify Apps to use in 2020. 
We have come to the end of our journey, and if you're still here you pretty much have a PhD in Shopify apps at this point. Your Shopify store is unique, with unique needs, and there is no one-size-fits-all answer to which apps are ideal for your business, but our team has tested scores of them for our Shopify clients and this list is the real deal. Hopefully it's enough to help you narrow down your list.
Fetch & Funnel specializes in helping Shopify stores to scale sales and revenue through advertising. We understand the nuances of how they interact with theme code and your other apps.
If you want some help from a trusted team of Shopify and eCommerce advertising experts, contact us and get a free strategy session before you add your next app.