There's just no way around it: Having high converting Snapchat ad creative is a game changer. It's the difference between making tens of thousands of dollars on Snapchat advertising, or losing it all.
If you're new to Snapchat Ads and you aren't sure how to design creative that converts, or how to craft your messaging in a way that appeals to Snapchatters…you've come to the right place!
We've got loads of Snapchat best practices and 25+ ad examples you can use for inspiration. Even better, we've got a little something called…
The Golden Rules
After running tons of Snapchat campaigns for dozens of great brands we've seen what works and what doesn't. And it turns out, what does work isn't all that tricky! We've boiled it down to three tried-and-true golden rules you can follow to make sure your ads are Snapchat-worthy.
Plus, we'll break down how to implement the golden rules for each ad format, and take a look at some high converting examples of Snapchat ad creative.
Snapchat Creative Golden Rule #1: Design Based on Objective
It should be obvious, but you'd be surprised how often we see brands failing to meet this first golden rule:
When creating Snapchat ads, be sure to design creative that supports your business goal. 
For performance objectives, you can include a swipe-up attachment that directs viewers to your app store page, mobile site, or custom lead gen form. 
When including an attachment, take a cue from State Farm. This ad has super-clear call to action that invites Snapchatters to swipe up, complete with an arrow to make absolutely sure it can't be missed:
If running an attachment, you should also make sure the image or video acts as a teaser with actionable messaging to incentivize Snapchatters to swipe up. Like this ad from Visible:
What does that ad mean? No idea. Not yet, anyway. But I'm intrigued, and definitely incentivized to learn more.
Snapchat Creative Golden Rule #2: Build for Mobile Consumption
Tell your story the way most Snapchatters do—in bite-sized, single-shot scenes. 
Flip the traditional narrative and get straight to the point. Here are two great examples from Sephora and Puma:
Here are the lessons to take away from these successful Snapchat ads, and how to apply Golden Rule #2 when designing your ads:
DO: Establish your brand moment before the two-second mark.
DON'T: Open on a solid frame with a logo or product shot only!
DO: Open with dynamic footage that provides an opportunity to hook viewers. This is very important!
Snapchat Golden Rule #3: Style as Native Content
Simply put, Snapchat ads work best when they don't feel like ads.
That means that your ads should fit in with Snapchat's look and feel. 
First and foremost, your ads should have a vertical orientation. Anything else will not only be jarring, it also won't fully utilize the space you have to get your message across.
Snapchat's design is meant to take advantage of mobile's vertical orientation. Snap Ads take up the full screen and have sound on. Filters frame a vertical Snap. Lenses provide an immersive vertical experience. 
Check out how GOAT uses the whole screen to show off their shoes:
In addition to using a vertical orientation, your ads should feel like User-Generated Content, or UGC. That means simple production with talent speaking directly to the camera. Here's another example from Visible that gets it right:
PRO TIP: Definitely make use of Snapchat's Creator Tools, such as Snap Publisher and Lens Web Builder. These programs make it much easier to create ads that fit right into the Snapchat environment.
Applying the Golden Rules to Different Snapchat Ad Formats
Snapchat has seven different ad formats—Snap Ads, Commercials, Story Ads, Dynamic Ads, Collection Ads, Filters, and Lens AR Experiences—and the way to apply the golden rules for each format varies a bit.
Vertical Video—Snap Ads, Commercials & Story Ads
Good news. We can kill three birds with one stone here, because the thing about Snap Ads, Commercials and Story Ads is that—although they have some essential differences, which we'll go through below—they all use the same creative format: vertical video.
Create Instant Impact with Vertical Video 
Vertical video is a powerful tool for the kind of visual storytelling that can get real results in the paid social sphere. And Snapchat is a veritable vertical video (say that three times fast) pioneer.
Just a couple of years after launching the platform, Snapchat released their first video ad format. Since then, this full-screen canvas has evolved into something very different than a simple video. You can use vertical video ads to tell deeper stories that drive direct action.
You can create instant impact with vertical video.
Vertical Video Placements
As I mentioned above, vertical video is used in three ad formats. Here's a breakdown of where Snapchatters will encounter these ad formats, as well as the differences between the three:
Snap Ads are single image or video ads viewed by choice within Stories and content. They encourage Snapchatters to take action on your website, contact your business, or download and engage with your app. This is the most frequently used placement and tends to provide the best results.
Commercials are non-skippable, six-second single image or video ads within Shows and Games. Commercials are designed to drive brand awareness, and can include attachments that drive to a website, long-form video, or Lens.
Story Ads are sequential brand videos that appear as a sponsored tile on the Discover screen alongside Shows and Publisher Stories. Snapchatters can tap on Story Ads and watch a series of 3 to 20 Snaps featuring your brand story.
The Golden Rules for Vertical Video
#1: Design Based on Objective
Depending on your objective, you'll have a variety of swipe-up attachments to choose from. Attachments can drive viewers to your site, app, long-form video, or Lenses AR Experiences. Since vertical video ads feature sound, you can (and should) use both creative and voiceover to encourage swipe ups.
This ad from FabFitFun features an "Order Now" call to action that brings users right to the product page on their website: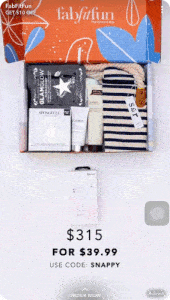 This particular Snapchat ad creative aligns nicely with the goal, meaning it showcases the product they're trying to push in a quick and enticing way.
You should also align creative with targeting where possible. Higher relevancy can lead to higher swipe-up and conversion rates!
#2: Build for Mobile Consumption
Keep content short. We recommend six seconds max for a single video.
Here's how to make every second count:
 #3: Style as Native Content
Develop vertical video with a homemade look and feel, and use Snapchat-inspired features wherever it makes sense. Talent should speak directly to the camera. 
Compared to videos that feel more polished, these tactics achieve significantly stronger view-through, while also performing at par for driving awareness.
Take a look at this ad from HiSmile:
You'll notice that this video does NOT look like it was filmed in a studio. Far from it. And that's a good thing. 
Also be sure to include sound or voiceover that helps reinforce your call to action. Sound is mandatory for Commercials, given the large number of viewers who watch with their sound on.
See more specs for Snap Ads, Commercials, and Story Ads at the Business Center.
Collection Ads
Collection Ads are Snap Ads that feature a row of thumbnails at the bottom. Snapchatters can tap each thumbnail to learn more or buy the featured product. 
Showcase Multiple Products in a Single Ad Experience
Collection Ads give you multiple opportunities to elicit engagement with a single ad.
Collection Ads Placement
Like Snap Ads, Collection Ads live between Stories and in content on Snapchat.
The Golden Rules for Collection Ads 
#1: Design Based on Objective
The objective for Collection Ads is to get users to purchase the featured products. Pretty simple. To do that, be sure to include a strong, clear message in your call to action, like "Get Now." Or, as in this ad from Feel the Burn Workout, a simple, tried-and-true "Shop Now":
Definitely be sure to use different URLs for each thumbnail image so Snapchatters who tap on it go directly to the product or feature page. If they want to check out a product and they end up on your homepage, they're likely to get annoyed and leave as soon as they arrive.
#2: Build for Mobile Consumption
Keep your Top Snap (the main image or video) simple to drive attention to your thumbnails. You don't want to overwhelm eyeballs so that users fail to notice your products. 
Also make sure your Top Snap's creative is broad enough to represent each thumbnail at the bottom, like this ad from First Place Bikes:
#3: Style as Native Content
Your creative treatment for Collection Ads should mirror those for vertical video: Apply a homemade look and feel, Snapchat-inspired features, and talent speaking or looking directly to the camera. 
For a good example of what we mean by "Snapchat-inspired features," check out this ad from Freedom Flex wireless:
Does it look like it could be a Snap sent by a friend rather than an ad? Yup. That means it's on the right track.
See more creative specs for Collection Ads at the Business Center.
Lenses AR Experiences
Lenses allow you to create interactive moments with augmented reality experiences that Snapchatters can play with and send to friends. 
In other words, Lenses bring your brand to life. 
Lenses Immerse Snapchatters in Your Brand
Though the overarching goal is to immerse Snapchatters in your brand, the sky's the limit when it comes to designs and individual ad objectives. Lenses can change faces, transform the world, and even gamify everyday experiences.
Lens Placements
Snapchatters play with Lenses in the camera. They can press and hold to record a Snap with your Lens, then share with friends through Stories or Chat.
The Golden Rules for Lenses AR Experiences
#1: Design Based on Objective
If your goal is to drive awareness, Lenses are a great option that come with a lot of creative freedom. The main goal is to make sure your Lens aligns with your brand image, shows off your product, and is INTERESTING, so that people share it with their friends. Take this example from HBO:
It's awesome and fun to look at, but it doesn't involve any genius marketing hacks. It meets the goal of garnering excitement and driving shares simply by being dope. 
However, if you want to use Lenses to drive conversions, you'll have a few more things to consider. 
You can (and should) include a button that redirects Snapchatters to a long-form video, website, or app store. Be sure to align your Lens with the attachment and include your call to action in the creative. For example, if your goal is to drive sales, focus the Lens experience on a product trial. Then, include a call to action that directs Snapchatters to make a purchase.
#2: Build for Mobile Consumption
A Lens is like a regular ad insofar as you can use it to make impressions. However, unlike a regular ad, Lenses also offer the opportunity to drive playtime with your brand. That makes for an extremely powerful tool to engage customers.
You can increase engagement by making your Lens shareworthy and adding an element of gamification. The more touchpoints and triggers, the longer a Snapchatter can interact with your Lens. 
Be sure to use known triggers and CTAs to maximize shares and playtime:
Open Your Mouth

Raise Your Eyebrows

Kiss

Try It With A Friend

Look Around

Smile

Tilt Your Head

Swap Camera 
#3: Style as Native Content
Avoid overwhelming Snapchatters with your brand's imagery and logo. To ensure you create a fun experience for your audience, think about weaving in your brand and logo in a way that's not overt or over-the-top. Branding should be clear and persistent but unobtrusive, like this ad from CoverGirl:
See more Lens specs at the Business Center.
Filters
Filters are creative overlays that can be applied over photo and video Snaps after they're captured.
Filters Help Foster Brand Connections
For Snapchatters, filters are a way to add extra expression and flair to their Snaps. 
For advertisers, filters can be a great way to create brand advocates. They let you connect with your audience when they're experiencing moments of creation and self-expression, and give you the chance to take part in their conversations. 
Filter Placement
Snapchatters can see Filter ads in friends' Snaps and in Stories. 
#1: Design Based on Objective
Filters drive greater affinity for your brand. Encourage Snapchatters to use and share your filter by making it fun, playful, humorous, or relevant.
If you want to include a caption, take your brand values and translate them into your audience's voice. The best captions relate to both your brand and what Snapchatters are thinking or feeling. Here is a super-simple example from the NBA:
There's nothing earth-shattering about that filter. It gets the (extremely relevant!) message across using authentic, casual language and speaks to the target audience's interests—and that's what makes it a successful ad.  
#2: Build for Mobile Consumption
Match your creative to what your audience is doing at the moment they see your filter. You can target ad delivery based on demographics, locations, special events, and even times of day. So consider how relevant the creative is to where and when a Snapchatter will be using it. 
For example, if it's Valentine's Day, this filter is much more likely to get shares than an evergreen filter that ignores the holiday context:
Remember: The more relevant your filter, the more likely your filter will be shared.
#3: Style as Native Content
Snaps are usually taken vertically, so design for portrait, not landscape! Filters should also be usable on both front and rear-facing camera Snaps.
Since filters provide a creative overlay, don't block the middle. Filters should be additive, not overwhelming. Leave room for the user to be the main focus.
Place your designs on the edges, with the heaviest part at the bottom. You can get REALLY simple, as long as the message resonates:
See more filters specs at the Business Center.
Successful Snapchat Ad Examples
Before I let you go, let's take a look at some really stellar examples of Snapchat creative done the right way. 
Check out how these companies applied the golden rules (whether they knew they were doing it or not!) to their Snapchat creative, and let these ads serve as inspiration for you when you're creating your own Snapchat ads. 
Snapchat Creative Case Study #1: Nima Inc.
Objective: A nature conservatory wants people to install their app.
Design based on objective

: The "Install Now" messaging is clear and actionable to drive swipe ups.

Built for mobile consumption

: An eye-catching image (NOT just a product shot) gets straight to the point of showing off app features. 

Style as native content

: The image takes full advantage of the available space and features a vertical orientation. 
Snapchat Creative Case Study #2: Marshalls
Objective: A beauty company wants to drive home their product's value props.
Design based on objective

: The Lens showcases the product's value props by allowing Snapchatters to "try on" the product before buying. 

Built for mobile consumption

: The Lens has four different features a user can play with, driving longer engagement.

Style as native content

: Branding is simple and unobtrusive, leaving room for the experience to be focused on the user. 
Snapchat Creative Case Study #3: City Boutique
Objective: A toy company wants to drive online sales of handmade items.
1.) Design based on objective: A Collection ad with bright, clear photos of each product is a great way to drive sales. It has a strong call to action, and each thumbnail leads to the product page. 
2.) Built for mobile consumption: The Top Snap is enticing and even tells a visual story about the products—they're all handmade. It's also simple enough to ensure attention is drawn to the thumbnails at the bottom. 
3.) Style as native content: The Top Snap looks like it was taken at home, at someone's table. It (literally!) has a homemade look and feel—perfect for Snapchat.
Snapchat Creative Case Study #4: Sunny Cafe
Objective: A restaurant wants to increase awareness for their new bottomless mimosa deal.
1.) Design based on objective: The campaign tagline, "Bottomless makes everything sunnier," does a great job of relating both to the brand and the Snapchatters' own experience.
2.) Built for mobile consumption: The filter is designed to be used by diners while they are in the restaurant. It doesn't get much more relevant than that! And that means it's more likely to get shares. 
3.) Style as native content: Vertical orientation, check. Plus, the design frames the Snap without overwhelming it. 
Next Steps
And that, my friends, is how to design creative for Snapchat that'll get fingers swiping. Here's where to go from here to make sure your Snapchat creative is primed for success.
Make sure you have a clearly defined objective

. Then, brainstorm how your design can help you meet it. How can you incentivize Snapchatters to swipe up?

Ditch the production studio

. If you've been using one, that is. Remember that ads with a homemade look and feel outperform slick, professional ones. 

Think like a Snapchatter.

You don't have to go back to high school or anything. But always keep Snapchat's style in mind when designing your ads. Keep it short. Keep it vertical. Use Snapchat-inspired features whenever it makes sense to do so.

Remember that it isn't about you

. Or your brand, for that matter. Snapchat users should be the focus of your ads. 
Get in touch with us! If you want help with anything and everything Snapchat, we're just a live chat or phone call away.